Close Encounters of the Third Kind
Who would be better placed to speak about the screenplay structure of Dead Poets Society than its main character, the Neil Perry?
We asked our structure expert, Sean, aka Structor, to go and speak to him.
This is a transcript of their conversation.
For a comprehensive analysis of Dead Poets Society screenplay including script extracts and videos, click here.
For another example of screenplay structure in 11 pictures, check Structor's interview with the General Maximus from Gladiator.
To max out your experience we recommend that you:
If you miss some turning points and/or stages, or if some stages are really too long, this is your opportunity to fix these issues.
---
Screenplay structure stage 1: the setup (1%-10%)
Structor:
Neil, thank you very much for taking the time to speak to me about screenplay structure.
I've just seen you perform Puck, in "A Midsummer Night's dream", and you were phenomenal.
This must actually be one of the peaks of your life, how do you look at it?
Neil:
I learned from my screenplay structure teacher here at Welton Academy, Mr Hauge, that a screenplay structure is made of 6 stages and 5 turning points.
Well, tonight was definitely a turning point in my life as a character ... I always dreamed of being an actor.
Structor:
According to Mr Hauge's model, the first stage in a screenplay structure is the set up.
And it has 3 objectives. The first one is to ...

Neil:
... pull the reader / audience in the initial setting of the story ... As you can see, I paid attention in class.
Well, the setting is my school, the prestigious and very conservative Welton Academy school.
Headmaster Nolan starts the semester with an official ceremony. He reminds us and our parents of the four pillars on which the school is built: Travesty. Horror - Sorry, I mean Tradition, honor, discipline, excellence.
And we get introduced to our new English teacher, Mr Keating, who will have a huge impact on our lives.
Structor:
This brings us to the second objective: showing the daily life of the hero that you are.
Neil:
I share my life with Cameron, Todd, Knox, Charlie, Meeks and Pitts.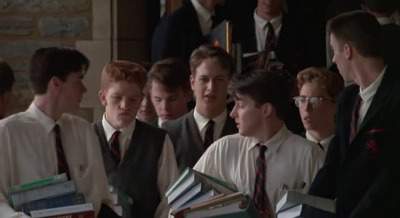 Our life is about meeting our parents expectations. Our future is already set in stone. We must become bankers, lawyers and doctors.
This all gets summed up at the very beginning of the screenplay in an exchange between Headmaster Nolan, my father and myself:
             	MR NOLAN 		Neil. We expect great things from you this year.  				NEIL 		Thank you, sir.  				MR PERRY 		Well he won't disappoint us. Right Neil?  				NEIL 		I'll do my best sir.       
On the other side, behind closed doors, we just want to enjoy our youth. We mock the values of the Welton Academy, smoke and listen to radio.
Structor:
The third objective of the setup in the screenplay structure is the identification with the hero that you are. What would you say takes care of it?
Neil:
2 scenes. In the first one I stand up for my new roommate:
 				CAMERON 		Business as usual, huh? Hey, I hear you got the new 		kid. Looks like a stiff!  He begins laughing when he notices Todd coming into the room.  				CAMERON 		Oops!  Cameron quickly leaves. Neil tries to keep from laughing as Todd enters the room and sets his luggage down on his bed.  				NEIL 		Listen, don't mind Cameron. He was born with his 		foot in his mouth. You know what I mean? 
And in the second scene, my father tells me in front of my friends to drop the school annual although I'm the assistant editor, I find it unfair and I don't want to.

In both cases you feel empathy for me.
Regarding Mr Keating, he's the main protagonist of the story. You get attracted to him because he contrasts with the other teachers who are boring, formal and stiff.
---
Turning point 1: the opportunity (10%)
Structor
This brings us to the first turning point in the screenplay structure: the opportunity.
This moment creates a new visible desire and will have you start your journey.
Neil:
I was intrigued by Mr Keating.
So I looked him up in the library and found his Senior annual yearbook. It stated he was part of the Dead Poets Society.
So together with my friends, we asked Mr Keating what this society was about.
He said ...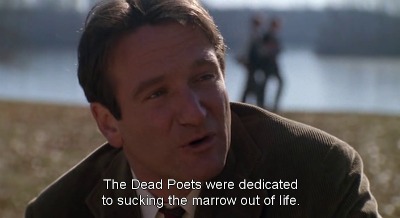 They would gather at the old Indian cave and read from the big poets. And in the enchantment of the moment they would let poetry work its magic.
Spirits soared, women swooned, and gods were created

---
Screenplay structure stage 2: The new situation (10-25%)
Structor:
You got inspired and decided to reconvene the Dead Poets society...
Neil:
Yes. I first invited my friends to take risks and go to the cave, which they accepted.
Then I found a book left by Mr Keating in my room. This was the book he used at the start of his Dead Poets Society meetings.
So when the night came, we left our rooms, found the cave, and I did the honors.
In class, Mr Keating kept opening up new spaces and started teaching us to think for ourselves. This was new and exhilarating.
---
Turning point 2: The change of plan (25%)
Structor:
And then there was this moment, the screenplay structure turning point number 2, that transformed your original desire to reconvene the Dead Poets society into a specific goal with a clearly defined end point ...
Neil:
I saw Mr Keating acting in our English class. He played Shakespeare and imitated Marlon Brando and John Wayne. This was incredible. This was a turning point in my life.
Ever since I can remember, I've wanted to try acting. I even tried to go to summer stock auditions last year, but, of course, my father wouldn't let me.
For the first time in my whole life I knew what I wanted to do.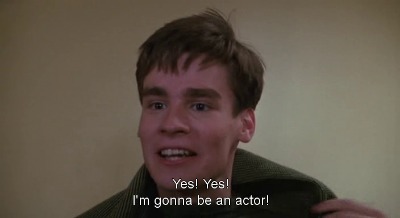 I decided to audition for a part in A Midsummer Night's Dream.
Structor:
This event hooked into the action and spinned it around into another direction ...
Neil:
and in the second Act of the screenplay structure.
---
---
Act 2 - Stage 3: Progress (25%-50%)
Structor:
Your plan to become an actor seemed working as you were taking action to achieve your goal. Whatever obstacle there was you could overcome them.
Neil:
Yes. I passed the audition at Henley Hall.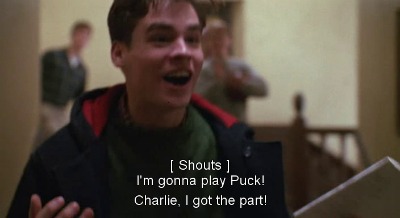 On a less positive note, Mr Keating got a warning from headmaster Nolan about his teaching methods.
---
Turning point 3: The point of no return (50%)
Structor:
And then, there is this moment in your room where you are at a crossroad in your life and in the screenplay structure.
You decide to burn the bridges behind you, fully commit to your goal of becoming an actor and take a much bigger risk than before.
Neil:
The theater needed a letter of permission from my father and Mr. Nolan.
My father would never have agreed to it. So I took a typewriter and decided to write the letter myself on his behalf.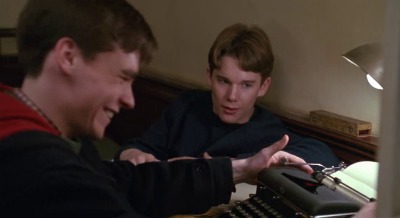 What a moment! I was laughing and stomping my feet up and down.
Another turning point in my life!
---
Stage 4: Complications and higher stakes (50%-75%)
Structor:
When did you realize that achieving your goal would be far more difficult than you thought?
Neil:
When Charlie published an article in the school paper, in the name of the Dead Poets, demanding girls be admitted to Welton. And when Mr Keating recommended us to be cautious and not stupid.
Until then nobody knew about the Dead Poets, but now Headmaster Nolan asked all the school boys to say who wrote this article.
Charlie admitted he did it. But there was more he had to do, to avoid being expelled.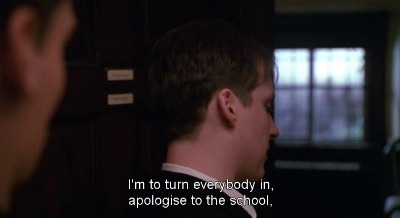 ---
Turning point 4: The major setback (75%)
Structor:
And then things got even worse for you, to the point it looked like all was lost.
Neil:
My father found out from a neighbor, Mrs Marks, that I was in the play together with her niece. He confronted me and told me ...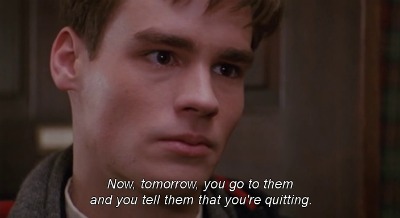 I told him I had the main part, I couldn't quit the day before the premiere.
He didn't care. He didn't care if the world would come to an end. He told me I was through with the play.
What could I do? So, I said I would quit.
---
ACT 3 - Stage 5: The final push (75% -90/99%)
Structor:
From that moment on, the conflict became overwhelming, the pace accelerated.
You obviously didn't quit since we saw you acting tonight. What happened?
Neil:
I went to see Mr Keating and asked for advice.
He told me to speak to my father about my passion for acting before the start of the play.
Structor:
And did you?
Neil:
No. I knew he would not change his mind. He'd just tell me to put it out of my mind, "for my own good."
So I decided to risk everything to achieve my ultimate goal, being an actor.
Structor:
And then you played Puck tonight, in a packed theater. An amazing performance.
Neil:
Yes. I enjoyed every minute of it ... until I saw my father coming into the theater visibly angry.
Even my line ...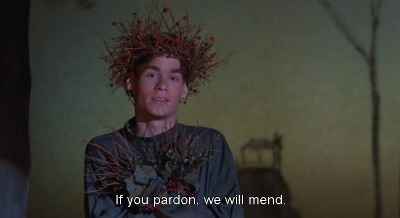 apologizing for anything that might have offended him, did not do it.
My father wasn't ready to see this whole episode as a dream.
---
Turning point 5: the climax ( 90/99%)
Whatascript:
Structor did not get the chance to complete this interview with Neil as his father stormed backstage and took him home.
Later on, we heard the very sad news that Neil had taken his life.
Structor:
From reliable sources I can however tell you that Neil's last moments had all the screenplay structure elements of a climax:
Neil faced the biggest obstacle of the entire story, his father.
His father told him he was withdrawing him from Welton and enrolling him in Braden Military School to become a doctor. And he could forget the acting business.

Neil made an attempt to say what he felt but stopped, defeated, unable to cope with this new future and his dominating father.

He

determined his own fate

;
While his parents were sleeping, Neil went to the study of his father, grabbed his gun and killed himself.


Neil's

objectives got met once and for all

.
Neil preferred to die than not living his dream.
---
Stage 6: the aftermath (90/99% - 100%)
Structor:
The story of Neil and the screenplay structure of Dead Poets Society did not end precisely with the resolution of the hero's objectives.
The headmaster Nolan launched an inquiry into the death of Neil.
One of the boys, Cameron, finked about the Dead Poets Society and made a scapegoat of Mr Keating, who got fired.
When Mr Keating came for the last time in the classroom to pick up his personals, the shy Todd, and Neil's roommate, stood upon his desk and called Mr Keating: "O Captain! My Captain!" as a last acknowledgment for the difference he made in his life.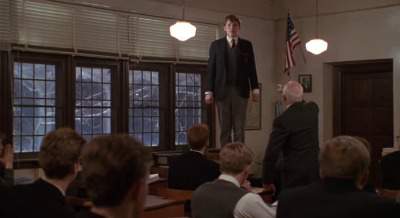 He got joined by other boys while Nolan told them in vain to sit down.
---
Get Dead Poets Society DVD and study the screenplay structure with it:
---
Related articles
---
Are You Following Us?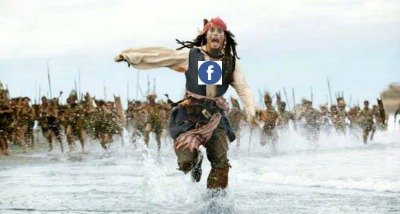 ---
Credits:
Pictures and screenplay:

-- "Dead Poets Society" - Robin Williams (Mr. Keating), Robert Sean Leonard (Neil), Ethan Hawke (Todd), Josh Charles (Knox), Gale Hansen (Charlie), Dylan Kussman (Cameron), Allelon Ruggiero (Meeks), James Waterston (Pitts), Norman Lloyd (Headmaster Nolan), Kurtwood Smith (Mr. Perry), Carla Belver (Mrs. Perry); John Seale (director of photography); Peter Weir (director); Tom Schulman (



screenplay)

-- Michael Hauge's article on structure

---
Tell me about your home*:
Go from Screenplay Structure to Whatascript! Home page
* Gladiator, written by David Franzoni, revised by John Logan