Step 7: Reveal Your Fictional Character Through Contrasts
We asked our character expert,
Alex
, aka
Cool Dude
, to tell us how to create a multidimentional character that the audience would care about.
He came back with 11 steps to do so and 3 stages:
1. Creating your fictional character
2. Revealing him
3. Connecting with him
Step 7 is part of the second stage of the process, i.e. "Revealing your character".
In this article Cool Dude will cover the following:
Cool Dude:
A powerful way to reveal your fictional character is to oppose it to something else.
Compare:



with


The more your fictional character differs from his environment, others characters or how he started his journey, the more you get him to come off the page and reveal his uniqueness to the audience.
---
1. Contrasting Your Fictional Character with Others
This technique is illustrated in the screenplay Alexander, written by Oliver Stone and Christopher Kyle and Laeta Kalogridis, when Olympias says to Alexander: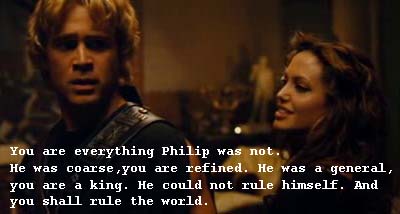 There are various ways to contrast your fictional characters. Here are a few.
You can give your main character

different body characteristics.



Think of John Merrick, in The Elephant Man, screenplay written by Christopher De Vore, & Eric Bergren & David Lynch .
His deformation distinguishes him from other spectators at the Theater Royal.



Another example is Jake Sully in Avatar, screenplay written by James Cameron.
When he comes out of his "operation" his blue skin common to the Na'vi people of Pandora greatly contrasts with the one of the medical staff.



Another way to contrast your fictional character with other people around him is to give a

unique point of view

.

In "To Kill a Mockingbird", screenplay written by Horton Foote, Atticus Finch stands for the innocence of his wrongly accused client, Tom Robinson, while the whole town is convinced of his guilt.

Short-tempered bowling buddy and Vietnam veteran Walter Sobchak contrasts greatly with The Dude who stays cool and conciliatory in this great conflict scene of "The Big Lebowski", screenplay written by the Coen brothers.
The scene is titled: "Over the line" and is a classic.

In this funny scene of "Play it Again, Sam", screenplay written by Woody Allen, Allan finds out that the girl he wants to date has a point of view about art and life that greatly contrasts with his own.

Give your fictional characters different point of views about life and they will speak in a very distinct way. Want to know more about how point of views impact how your characters speak? Check out our quiz.

Another way to show a contrast between your main fictional character and another character is to

have him speak in a very different manner.



This is an example from "Trading Places", screenplay written by Timothy Harris and Herschel Weingrod.
Louis Winthorpe III, a well-mannered and educated investor, explains to Billy Ray Valentine, a con artist, how to deal with the New York Commodities Exchange.

                                LOUIS WINTHORPE III                    Think big, think positive, never                     show any sign of weakness. Always go                    for the throat. Buy low, sell high.                    Fear? That's the other guy's problem.                     Nothing you have ever experienced will                    prepare you for the absolute carnage                     you are about to witness. Super Bowl,                    World Series - they don't know what                     pressure is. In this building, it's                     either kill or be killed. You make no                    friends in the pits and you take no                     prisoners. One minute you're up half                    a million in soybeans and the next,                     boom, your kids don't go to college                    and they've repossessed your Bentley.                    Are you with me?                                 BILLY RAY                    Yeah, we got to kill the motherfuckers                    - we got to kill 'em!       

When you make a dialogue technique part of the traits of your fictional character and use such a technique constantly in the dialogues of your character, you create a contrast with other characters who do not use such a technique.

For example, Prem Kumar in Slumdog Millionaire, screenplay written by Simon Beaufoy keeps using the put down dialogue technique towards the "Who Wants to Play a Millionaire" contestant Jamal. This is one of his traits as a "villain".

In The Dead Poets Society the teacher McCallistair speaks while making use of the formal dialogue technique. By doing so, he creates a contrast with the students of the Welton Academy who speak in a more "casual" way.

Finally, in Basic Instinct, the seductive and dangerous Catherine Trammel, keeps using the unexpected dialogue technique which totally fits with her unpredictable nature.

In above extract from Trading Place, note as well the contrast in names between the 2 fictional characters (Louis Winthorpe III and Billy Ray Valentine), to show they come from a different social background.
Check out how to reveal your character by giving him the "right" name.



Another way to contrasts 2 fictional characters is to show how differently they deal with the same action or situation.

In "Se7en", Detective Sommerset is a very meticulous and systematic person while his young partner, Detective Mills, is more messy and impulsive. The screenwriter Andrew Kevin Walker shows that in a scene where both characters put a tie on.

Sommerset puts a well ironed shirt, knots his tie newly and ajusts it precisely. His surrounding is tidy and organized. Mills on the other hand seems to have slept with his shirt. He takes a already knotted tie from a hanger and wears it loose. His bedroom is still full of unpacked cartons.










---
2. Contrasting Your Fictional Character with the Environment
A powerful way to contrast your fictional character is to put him in a surrounding where he obviously does not belong.
In "The Notebook", screnwriter Jeremy Leven illustrates this social gap in a dinner scene. Noah, a working class young man, and Allie, a very rich young lady are in love. Noah gets invited to Allie's family dinner, where all the guests are wealthy but Noah. He is first an object of curiosity and ends up being an object of embarrassment.
                                BUYER 1                    So, what do you do, Noah?                                       NOAH                    I work at the lumber yard with Fin.                    Mainly milling and receiving logs...                    and stripping the bark.                                                    BUYER 1'S WIFE                    Oh, that's lovely, dear.                                 NOAH                    Thank you.                                                    BUYER 2                    If you don't mind my asking, uh,                     how much do you make at your job?                                 NOAH                    Uh, how much money do I make?                                 BUYER 2                    Mm-hmm.                                  NOAH                    About 40 cents an hour. Yeah, it's                     not much, but I don't need a lot. And                     l... I save most of it.                                 ALLIE'S FATHER                    Let's eat. Shall we?    
An interesting detail to reveal the contrast between Noah and the other guests is also that he wears black while everybody else is in white.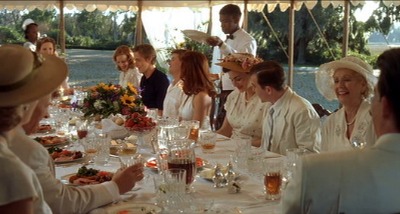 In the "Show Don't Tell" category, you can also show this contrast by
showing your fictional character being new at something
while the environment has already experience in the matter.
This is a picture from Miss Congeniality, written by
Marc Lawrence & Katie Ford & Caryn Lucas
showing FBI agent Gracie Hart, having trouble to walk on her high heel shoes while other beauty pageant contestants have no issue whatsoever.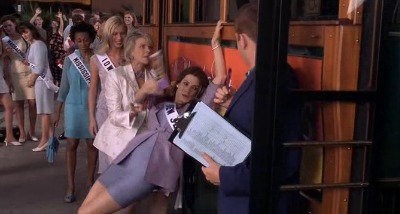 Another example of contrast comes from the screenplay "Witness", written by
Earl W. Wallace & William Kelley
. The screenwriters play skillfully with the contrast between Detective John Book and the Amish.
At the beginning of the story, the young Amish Samuel and his mother Rachel Lapp, contrast with the the citizen of Philadelphia.
In this scene, John Book has a hotdog with Samuel and Rachel. Their clothings contrast with his. And their practices too. While he has already taken a bite of his hotdog, he realizes that he should have waited because they pray before eating.



Later on in the story, when John Book goes to the Amish people, Samuel and Rachel are in their environment. The one contrasting is now John Book.
---
3. Contrasting Your Fictional Character with Himself
With this technique you can achieve different goals.
One of them is to show the conflicting traits of your character. This gives depth to your character and increases the interest of the reader.
Think for example of James Bond enemy in "You Only Live Twice", Ernst Stavro Blofeld. On one hand he is evil: "I shall look forward personally to exterminating you, Mr. Bond." On the other hand, he keeps stroking his white blue-eyed Turkish Angora. This picture illustrates this paradox.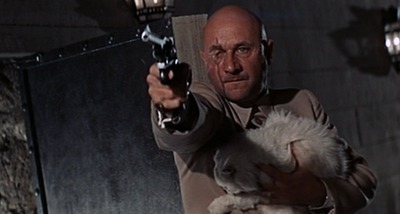 In "This Boy's Life", screenplay written by Robert Getchell the abusive Dwight shows first a nice side of himself to go out with Caroline. He brings her flowers and lights her cigarettes.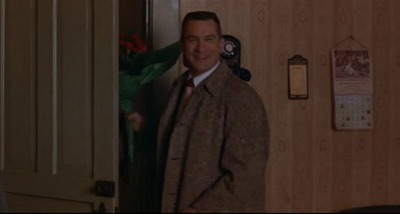 Once they get married, he shows his true nature. In one scene when they make love, Caroline says she wants to see his face. Dwight responds that he does not like it that way. When she says that it's crazy, he presses her head against the mattress, and tells her:
                                DWIGHT                    This is my house and I get to say.                     Got it?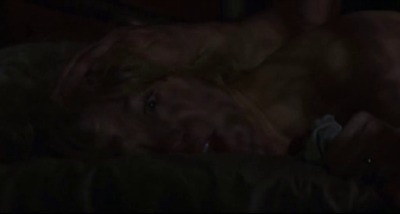 Another goal of this contrast is to show the growth of your fictional character.
You may show your character one way at the beginning of the story and another way at the end. This change is a function of the character's arc.
This change can be shown for example by:
a new behavior..

In "Batman Begins", screenplay written by Christopher Nolan and David S. Goyer, the transformation of Bruce Wayne can be illustrated with 2 pictures.

1. Young Bruce, afraid of the bats.

2. Adult Bruce, having conquered his fear of the bats and facing them.

a physical transformation

In "Life as a House", Sam Monroe starts the story with eye shadow, blue hair and piercing.

Out of transforming his relationship to himself and his father, he changes physically.
---
Aright guys uh.. Lets start sharing. Don?*
* Hancock - screenplay written by Vincent Ngo and Vince Gilligan
---
Related articles - 11 Steps to Create a Compelling Fictional Character:
---
Credits:
Pictures and screenplays:

-- "Avatar - Sam Worthington (Jake), James Cameron (director and screenwriter), Mauro Fiore (director of photography)

-- "Alexander" - Colin Farrell (Alexander), Angelina Jolie (Olympias), Oliver Stone (director), Rodrigo Prieto (director of photography), Oliver Stone and Christopher Kyle and Laeta Kalogridis. -

-- "The Elephant Man - John Hurt (John Merrick), Anne Bancroft (Mrs Kendal), Anthony Hopkins (Frederick Treves), David Lynch (director), Freddie Francis (director of photography), Christopher De Vore & Eric Bergren & David Lynch (screenplay)

-- "To Kill a Mockingbird - Gregory Peck (Atticus Finch), Robert Mulligan (director), Russell Harlan (director of photography), Horton Foote (screenplay)

-- "The Big Lebowski - John Goodman (Walter), Joel Coen & Ethan Coen (directors and screenwriters), Roger Deakins (director of photography)

-- "Play it Again Sam" - Woody Allen, Diana Davila ; Herbert Ross (director), Owen Roizman (director of photography); Woody Allen (screenplay)

-- "Trading Places" - Timothy Harris and Herschel Weingrod (screenplay)

-- "Se7en - Morgan Freeman (Sommerset), Brad Pitt (Mills); David Fincher (director), Darius Khondji (director of Photography); Andrew Kevin Walker (screenplay)

-- "The Notebook - Ryan Gosling (Noah), Nick Cassavetes (director), Robert Fraisse (director of photography), Jeremy Leven (screenplay)

-- "Miss Congeniality" - Sandra Bullock (Gracie); Donald Petrie(director), Laszlo Kovacs (director of photography), Marc Lawrence & Katie Ford & Caryn Lucas (screenplay)

-- "Witness" - Harrison Ford (Book), Lukas Haas (Samuel) Kelly McGillis (Rachel), Peter Weir (director), John Seale (director of photography), Earl W. Wallace & William Kelley (screenplay)

-- "You Only Live Twice" - Donald Pleasence (Blofeld); Lewis Gilbert (director), Freddie Young (director of photography), Roald Dahl (screenplay)

-- "This Boy's Life" - Robert De Niro (Dwight), Ellen Barkin (Caroline); Michael Caton-Jones (director), David Watkin(director of photography), Robert Getchell(screenplay)

-- "Batman Begins - Gus Lewis (Bruce - age 8), Christian Bale (Bruce adult), Christopher Nolan (director), Wally Pfister (director of photography), Christopher Nolan and David S. Goyer (screenplay)

-- "Life as a House" - Hayden Christensen (Sam), Vilmos Zsigmond (director of photography), Irwin Winkler (director), Mark Andrus (screenplay)
---
I'm going home.*:
Go from 11 Steps to Create a Compelling Fictional Character (step 9) to Whatascript! Home page




* The Departed, screenplay written by William Monahan