"I loved the sound of dialogue"
Aaron Sorkin says he was 9 when he saw with his parents the play "Who's afraid of Virgina Wolf".
He did not understand much of the story, but he loved the sound of dialogue.
It sounded like music to him. And he wanted to be able to imitate that sound.
As a result he started writing himself.
41 years later, in 2011, he won the Oscar of best adapted screenplay for "The Social Network".
---
Listen to the sound of Aaron Sorkin's dialogues:
David, our dialogue expert, aka Blablator, said it in his movie dialogue rule #13:
Dialogue has a sound, it either goes clink or clonk. When perfectly executed, it is like music, with a specific tempo and flow.
Listen to the music of Aaron Sorkin in these 3 different pieces:
1. The Social Network - "Do I have your full attention?"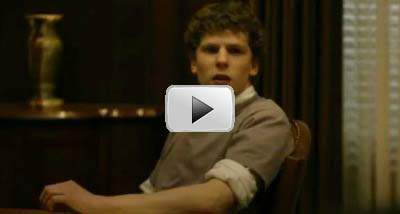 2. A Few Good Men - "You cannot handle the truth"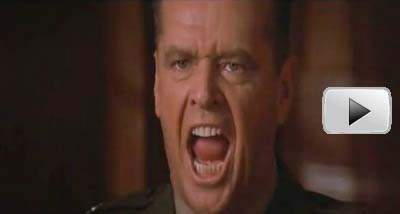 ---
Aaron Sorkin's Journey
Aaron Sorkin, born June 6 1961, graduated in 1983 from Syracuse University with a Bachelor of Fine Arts in Theater.
He came with hope of acting in Broadway and did a series of survival jobs before being discovered by playwright-in-residence Lewis Black at the West Bank cafe for his play "Hidden in This Picture".
A year later, in 1989, he received the Outer Critics Circle award as Outstanding New American Playwright for the stage version of "A Few Good Men".
From that moment on he accumulated an impressive amount of prestigious nominations and awards.
In 1993 his movie adaptation of "A Few Good Men" with Tom Cruise, Jack Nicholson and Demi Moore got nominated for 4 Academy Awards and 5 Golden Globes, including Best Screenplay and Best Picture.
He got nominated for the Golden Globes for Best Screenplay for "The American President" in 1996, for "Charlie Wilson's War" in 2008 and for "Moneyball" in 2012.
He won the Golden Globe award in 2011 for "The Social Network".
With regards to Television he got nominated in 1999 for an Emmy award for the comedy "Sports night" and won 4 Emmy Awards for Outstanding Drama Series with the "West Wing" in the period 2000 - 2004.
---
Aaron Sorkin on writing
"I dont want to analyze myself or anything, but I think, in fact I know this to be true, that I enter the world through what I write.
I grew up believing, and continue to believe, that I am a screw-up, that growing up with my family and friends, I had nothing to offer in any conversation. But when I started writing, suddenly there was something that I brought to the party that was at a high-enough level."
---
"I spend a lot of time pacing around my room, driving around in my car, going crazy looking for the things that I know I need to have before I can begin writing. Once I have discovered the intention and the obstacle then I feel ready to go."
---
"I really envy people who show up at their office at 9 o'clock and write straight through till 6 or 7 o'clock. I'm not one of those people."
---
"On days when I know what I'm doing I know what I'm going to write today, I know what these 3 scenes are going to be, it's been kind of cooking in my head for a while, and I just know how it's going to sound like, and I know what the point of frictions in these scenes are going to be, then I can go for hours and get a lot of pages done."
"But then I'll have to stop for several days while I'm thinking of the next thing that I'm going to do."
---
"Like I said in television when you have only 8 or 9 days to turn it around you just necessarily have to speed up that process."
---
"I have done 3 television series now, the reason why I love that, is it forces you to write more. You don't have a choice but to have an episode out there every week."
---
"I try not to tell the audience who the character is - I try to show the audience what a character wants. If you can do that then you've gone a long way toward - you talk about building empathy between the audience and a character - you've gone a long way toward doing that."
---
"I cannot skip anything, I have to start at the beginning and go step by step - anytime that I have been having to report to the director, the studio, the network, whoever that is I was working for "I know exactly how it ends, I'm just having trouble with this scene", and they'd say "skip that scene, go to the end and go back" - I cannot do it, I have to do what's in front of me.
---
Getting started is the most difficult thing for me and the most important thing for me. The difference between being on page 2 and page nothing is life and death for me."
---
I'm always the first actor to play all the parts, and that's a very physical experience for me. When I'm writing, I'm jumping up and down, running around - that's when it goes wel. It's a sort of 95 - 5 ratio of days spent
---
Right now for instance I am the beginning of 3 new things, the beginning of new play, the beginning of a new TV series, the beginning of a new movie and this is the climb in the walls part, where you just don't see it yet, you don't know what the first scene is yet, that kind of thing.
---
To get one good idea, your mind has to flip through a rollodex of 50,000 bad ideas to get there. So I go through my days and nights seeing really bad movies in my head. I am in that kind of mood.
I do nothing but stream through bad dialogues, bad scenes, bad everything until I just by accident - wait a second that's what I was looking for.
---
When it's going well, I'm very active, I'm saying all out loud, whether I am at my keyboard or I don't why, I've been driving around in my car to places where a lot of good thinking gets done.
---
So I'm constantly trying to start argument with myself looking for argument because you always look for where is the point of friction - 2 people have to disagree on something for there to be a scene.
---
I think mostly about intention and obstacle - somebody wants something, something's standing in their way of getting it.
It doesn't matter what they want - they want the money, they want the girl, they want to get to Philadelphia, it doesn't matter. But they've got to want it bad. And if they can need it, that's even better. And whatever's standing in the way has to be formidable.
So I'm thinking about intention and obstacle.
---
I'm thinking about starting as close to the end of the story as I can.
---
I've got to find a way to tell that story so that's really worth your time, so it's not the movie you think you're going to see.
---
[About the Social Network and why it is a great movie] One of the things I wanted to make sure I didn't do was tell the audience what they should think the movie was about.
The movie does not take a position on who's right, who's wrong, who's good, who's bad, who's lying, who's telling the truth. And it does not take a position on what it is about.
---
Aaron Sorkin on dialogue
I always considered Plot and story to be a kind of necessary intrusion. And what I'm trying to do is dialogue - that's how I fell in love with writing.
---
How does a 19 year old speak? I have got to do that somehow... I'm going to have to develop an affinity for this character of Mark [Zuckerberg)because this was the first time I was writing an anti-hero.
---
And when you write an anti hero you cannot judge that character.
You've got to have affection for the character, you've got to have respect for the character, you've got to be able to defend the character.
---
So in order to do that you find things about the character that are like yourself. I'm socially awkward too I am shy in a lot of situations like most people. I've spent a lot of time feeling like an outsider, like I have my nose pressed up against the window, something's terrific happening on the other side.
---
Extract from an interview of Arnie Hammer by "The Wrap" about telling the dialogues of Aaron Sorkin in the movie "The Social Network"
---
It's not so much something that I had to learn than to get used to.
Looking at the paper you could understand Sorkin's dialogue is very musical, it's very rythmic.
---
And if you drop a word, you change the wording or sense or the way things are organized, it won't sound the same.
It would be like hitting the wrong note on the piano.
---
Once you get those lines down, it just flows naturally ...
---
Aaron Sorkin's advices to people inspired to be a screenwriter
"Anybody who is remotedly interested in screenwriting should read the book "Adventures in the screen trade" by William Goldman.
Bill won the oscar for "Butch Cassidy and the Sundance", he won another Oscar for "All the President's Men". He wrote the movie and the novel "the Princess Bride". He wrote "Marathon man". For me and for a lot of my friends who do what I do, Bill is the golden standard.
---
If someone wants to be a screenwriter, read a lot of screenplays, and see a lot of movies.
Watch a movie with a screenplay open on your lap.
---
Write a lot. Maybe there is a short story you liked a lot when you were a kid - take that short story and just for fun try to adapt it in a screenplay.
---
See what happens when you start writing in dialogue. Remember that when you are doing this - what you're writing is not meant to be read. It is meant to be performed.
---
So anytime words are spoken out loud for the sake of performance, they have now all the same rules that apply to music. So it needs to sound like something.
---
That's when you're gonna start finding your own voice. Find out what you like to sound like. Just the sort of key signature that's comfortable for you to write when you like your character sounding like.
---
Make it sound good - make it sound like music."
---
Access Aaron Sorkin's screenplays
Study from the Master:
West Wing - Season 2 - episode 4
West Wing - Season 3 - episode 6
---
Liked this article? Then, don't plead the 5th!
Leave us a comment!

---
Read related articles on dialogue:
---
Credits:
Picture:
Aaron Sorkin at The Lucasfilm Speaker Series
-- "The Social Network" - Jesse Eisenberg, Aaron Sorkin (screenplay), David Fincher (director), Jeff Cronenweth (director of photography), Columbia Pictures and Sony
-- "A Few Good Men" - Jack Nicholson, Aaron Sorkin (screenplay), Rob Reiner (director), Robert Richardson (director of photography)
-- "Malice" - Alec Baldwin, Aaron Sorkin and Scott Frank (screenplay), Harold Becker (director), Gordon Willis (director of photography)
Source of above information and quotes: TV interviews and videos about Aaron Sorkin, including but not limited to the following video interviews:
-- The Lucasfilm Speaker Series with Kate Shaw ( part 1 2, 3, 4)
-- an interview of Arnie Hammer by "The Wrap"
-- the show "Reel Life, Reel Stories", hosted by "Making of" CEO Christine Aylward




---
l got to get home right now*:
Go from Aaron Sorkin to Whatascript! Home page
* Saving Private Ryan, screenplay written by Robert Rodat