#7: "Thou Shalt Give Your Best Shot"
We asked our screenplay format expert, Matt, aka Formatman, to lead us through the 10 formatting commandments.
If you missed the introduction to this series of articles, you may want to check it out first.
Here is the link to Part 1, where it all started.
Formatman:
In this article illustrated with 22 screenplays and a number of videos, you'll discover all about these often used screenplay format techniques, that we call Montage and Series of Shots. You will find out:

what these techniques are and their difference



the most common application of montage and series of shots



the screenplay format of montage and series of shots



the general accepted rules



why some people HATE them



our advice with a poll



and how to test drive them



---
Montage and series of shots - What they are
Formatman:
In screenplay format both montage and series of shots are actually a series of quick shots.
Their purpose?
To deliver information to the Reader in a visual and effective way while condensing space and time on the page and moving the story forward.
---
Montage and series of shots - The difference
With regards to screenplay format, the difference between the two is not set in stone.
How come?
Well simply because screenplay format is not an exact science but rather a series of guidelines with a lot of leeway.
You may therefore get confused when reading some of the more than 250 free movie scripts that we have on our site, to find out that some screenwriters use the words "montage" while some other screenwriters or books or authorities in screenplay format would use "series of shots" in this situation, and vice versa.
Knowing that will help you not to be stuck with a definition but understand the general concept behind this screenplay format technique so that you can use it.
Generally speaking, the montage is about a theme while a series of shots leads to a dramatic action or conclusion.
The screenplay format of the passing of time is controversial. Some screenwriters use a montage while others use a series of shots.
We will go through each of these terms in details and give examples, starting with...
---
Montage 101
Generally speaking, the montage is about a theme. A single one.
As a result, all the shots of a montage contribute to create and reinforce the same idea.
This idea is often mentioned in the screenplay at the beginning of the montage.
When done skillfully, the montage can powerfully convey an overall impression.
Let's have a look at a few typical categories of montage:
---
1. The Falling in Love montage
The most famous montage - and some will call it infamous - is the "Falling in Love" montage in romantic comedies.
This is a short example:
-- John and Mary walk in a park. The rain suddenly starts pouring on them. John takes his jacket off and offers it to Mary. They now run to cross the street.
-- A car passes by and splashes water on them. They look at each other, soaken wet and laugh. What's the point? She throws the jacket away, opens her arms, welcoming the rain. He does the same. A few people run past them and think they are crazy.
-- John and Mary at a coffee bar. He uses a napkin to dry her forehead. They laugh.
-- We see them in a club, dancing, having a good time and getting physically close to each other.
-- Next morning. An apartment. Their clothes, spread all over on the floor, lead us to the bedroom.
Got the idea? Sounds familiar?
In a few distinct shots, you get the whole theme.
In romantic comedies in particular, the montage is often accompanied by a hit song.
But as mentioned in the screenplay format Commandment #4 - Thou shalt use sounds effectively, you should not indicate which music to play and leave that to the director.
Here are 2 examples of this "Falling / Being in Love" Montage.
1. A "true" montage from "About Time", screenplay written by Richard Curtis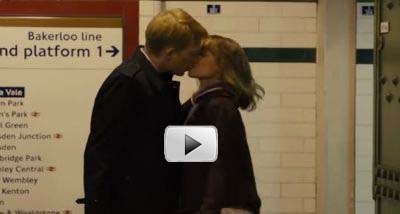 2. A "parody" montage from "Naked Gun", screenplay written by Jerry Zucker & Jim Abrahams & David Zucker & Pat Proft
This parody shows also immediately the limits of this screenplay format technique when not executed skillfully as it is often full of deadly clich&eacutes - like in our own example above.
---
2. The Training montage
In this example we see the hero training himself for a competition. It could be a sports event, a dance competition, or whatever else fitting that category.
In a few shots, we see hours, days or months of training passing by.
Here are 2 examples.
1. From Rocky, screenplay written by Sylvester Stallone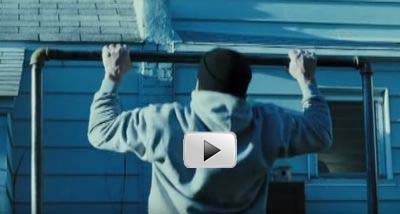 This is a recurring theme in the Rocky series since you will find a training montage in Rocky 2, Rocky 3, Rocky 4 etc.
2. From Karate Kid, written by Robert Mark Kamen.
Check out the screenplay format.
Johnny beating an opponent to the ground with multiple techniques. An elimination board serves to keep us current on the tournament's progress. Bobby, scoring with a flying wheel kick. Daniel scoring on a counterpunch. Johnny annihilating another opponent viciously,as Keese looks on. Daniel scoring with a front kick...
And this is the translation on the screen:
---
3. The Activity montage
You see often montages for the processing of a prisoner, a series of tests or interviews that the hero goes through.
Here are 2 examples:
1.This is from Life as a House, screenplay written by Mark Andrus.
George is probed and poked by doctor after doctor. An ultrasound test followed by a CT scan, followed by a MRI results in more tests.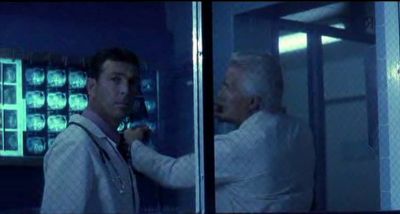 A flexible tube is slid down George's throat as dye is shot into his body. 'Sounds of laughter, shades of life are ringing through my open view, inciting them, inviting me...'
A long blunt needle is shoved into George's side for a biopsy of his pancreas. X-rays are lit and highlighted as doctors ponder the specks, the disease.
Finally, George is opened up; nearly bloodless slice through skin, muscle and fat reveals death. 'Limitless undying love, which shines around me like a million suns, which calls me on and on across the universe...'
George is wheeled down a long hall to the critical care unit. 'Nothing's going to change my world, nothing's gonna change my world...'
2. This is from The Game, screenplay written by Jeb Stuart and David Twohy.
- Nicholas fills out an APPLICATION of endless questions.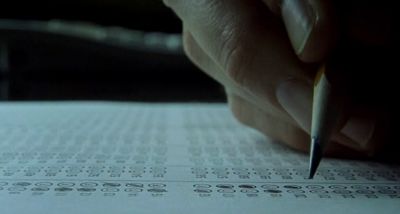 - A #2 pencil fills in circles on a long M.M.P.I. form. CLOSE ON: "I often feel someone is following me. True/False." "I hate vegetables. True/False." "Vegetables hate me. True/False."
- WHITE ROOM. A stone-faced PSYCHOLOGIST holds up CARDS. Nicholas gives his unenthusiastic interpretation into a TAPE RECORDER, checks his Rolex.
One CARD shows a large ant in an apron feeding a TV dinner to a human child. That card is replaced by another of a man slipping head over heels on a banana peel.
- Nicholas wears HEADPHONES, facing a TECHNICIAN, raising a finger on his left fist or right fist for each low BEEP. Nicholas sighs, can't believe he's doing this.
---
4. The Passing Time montage
In terms of screnplay format some screenwriters treat the passing of time as a montage and some others as a series of shots.
This is an example of a montage in Into the Wild, screenplay written by Sean Penn.
MONTAGE: We travel with Chris and his Datsun through the towns and open highways, landscapes and landmarks, days and nights, that lead to the Mojave desert in the West.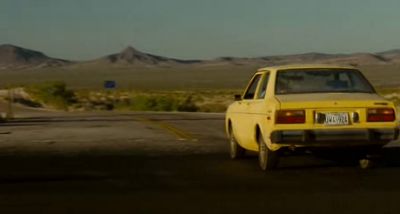 ---
---
Montage - The Screenplay Format
We've covered so far what a montage is and some of the most common categories of montage.
Time to discover how to write on the page such a montage.
Here are the main screenplay format guidelines.
---
1. Start
There are 2 situations:
1. In terms of screenplay format the montage starts with a master scene heading if the montage is a new scene.
This is an example from The Reader, screenplay written by David Hare and Bernhard Schlink .
A montage of MICHAEL reading and HANNA listening. MICHAEL is reading different books. He is animated now, excited. There are extracts from The Old Man and the Sea (Hemingway); Anatol (Schnitzler) ; The World of Yesterday (Zweig) and Doctor Zhivago (Pasternak). MICHAEL catching fire with excitement with what he is doing. HANNA collecting the tapes from the mail room and organizing on her shelves - her library growing.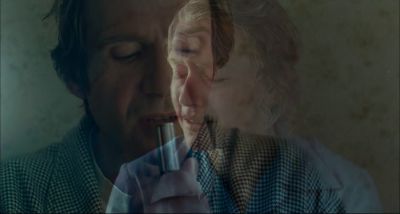 2. Should the montage be part of a scene, the screenplay format is to write the words MONTAGE and start describing the shots.
This is from American Beauty, screenplay written by Alan Bal.
The interior of this house is ugly, oppressive and tasteless. Carolyn opens the front door, breathes deeply and solemnly announces:
CAROLYN
I will sell this house today.
She neatly arranges her sales materials on a desk, then strips down to her undergarments.
We see Carolyn, working with fierce concentration as she:
Cleans glass doors that overlook the patio and pool;
Doggedly scrubs countertops in the kitchen;
Perches on a stepladder to dust a cheap-looking ceiling fan in the master bedroom;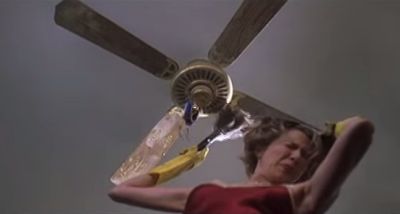 And vacuums a dirty carpet that will never be clean.
Throughout all this, she keeps repeating to herself:
CAROLYN (CONT'D)
I will sell this house today. I will sell this house today. I will sell this house today.
---
B. Mentioning the theme of the montage.
One of the screenplay format conventions is to write what the montage is about.
Some screenwriters do it, some others don't.
Dustin Lance Black did it in his award screenplay, Milk.
WE SEE SCOTT, DANNY, JIM handing out FLYERS to a variety of SF CITIZENS: gay boys, older people, Chinese people, scared straight people, heckling high school boys.
Harvey EAGERLY APPROACHES anyone and everyone, shaking hands if they'll let him, reaching out to old people, straight people, gay people, even buttoned down BUSINESSMEN who cross the street to try to get away from him.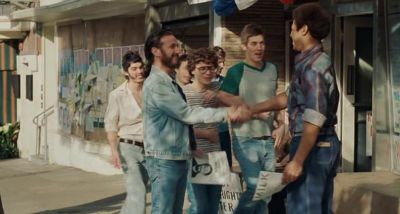 ---
C. Describing the shots
There are 3 main forms used in terms of screenplay format:
1. Use of letters or numbers:
Each shot starts with a sequential alphabetic letter or a number.
This is from The Fugitive, screenplay written by Jeb Stuart and David Twohy.
A) C.P.D. cruisers arriving. Cops deploying to points of entry. Security guards keying shut parking garage and blocking stairwells.
B) Helicopter with police sharpshooters takes off from Meigs Field downtown and heads for the hotel.
2. Use of one or two dashes to start a specific shot:
This is from Frozen, screenplay written by Jennifer Lee.
-Anna and Elsa roll giant snowballs and build a snowman together. Elsa moves his stick arms around.
YOUNG ELSA (CONT'D)
(goofy voice)
Hi, I'm Olaf and I like warm hugs.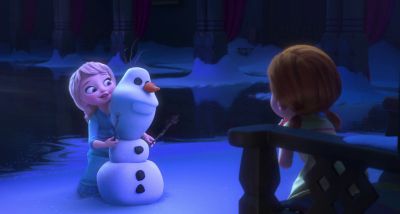 Anna jumps up and hugs him.
YOUNG ANNA
I love you, Olaf.
-Anna and Olaf appear to be dancing. REVEAL: Elsa is actually propelling them across the ice floor with her magic.
-The girls slide down snowbanks together!
-Anna fearlessly jumps off a snow peak into mid air.
YOUNG ANNA (CONT'D)
Catch me!
3. Use of paragraphs of descriptions, separated or not by one line:
This is from Witness, screenplay written by E.W. Wallace, P. Wallace, William Kelley.
Hochstetler has a couple of older folk on board, together with his young sister – at first they're not aware of the race, until Daniel can contain his excitement no longer and gives his horse a couple of whoops. The buggies are neck and neck, and the older people are not protesting loudly.
It's all Book can do to refrain from grabbing the reins off Rachel, but she's something of a horsewoman and finally she gains the edge and pulls ahead of Hochstetler, to the cheers of Samuel and Book.
When the location of the specific shot is important, the screenplay format convention is then to write such a location in capitals before the description.
This is an example from Gladiator, screenplay written by David Franzoni and John Logan.
A quick sequence of brutal arrests as Praetorian Guard units round up many associated with the plot. And many that are not.
GAIUS' BEDROOM: Gaius and his wife are yanked awake and hauled out.
CHRISTIAN HOME: A congregation of Christians is chained together, their secret altar smashed.
CAFE: Greek Scholars are hauled away from their scrolls.
STREET THEATER: Actors are dragged off in the midst of a performance.
GRACCHUS' STEAM ROOM: Gracchus is enjoying grapes with his handsome catamite. A unit of Praetorian bursts in. Gracchus looks at them. Sighs.
---
D. Number of shots
There is again no rules in that domain in terms of screenplay format. But you will often see between 3 and 7 shots used.
The idea is to have enough shots to create a general impression and not too many so that you do not end up with a shopping list.
The maximum I saw was in the screenplay Into the Wild which had 22 shots in one montage.
This is an example of 7 shots from Wall-E, screenplay written by Andrew Stanton and Pete Docter.
- Several hot days pass with Wall-E holding vigil in the heat.
- A THUNDERSTORM approaches on the horizon. Wall-E holds an UMBRELLA over Eve. Gets struck by lightning. Holds up another umbrella. Gets struck again.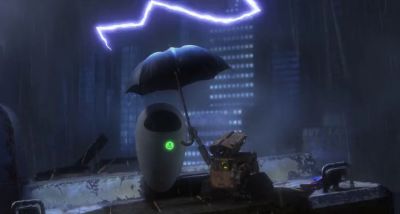 - A SANDSTORM blows through. Wall-E pops out of a dune on the truck's roof. Lifts up an UPSIDE-DOWN BARREL that protected Eve.
- Wall-E pries open a panel on Eve's chest. Reveals her pulsing BLUE HEART-BATTERY. Attaches JUMPER CABLES to his own HEART-BATTERY. Tries to connect the other end to hers. An automatic defense system blows him off truck.
- Wall-E & cockroach take Eve for a walk. Pull her along on a LEASH OF CHRISTMAS LIGHTS.
- Wall-E gives Eve a boat ride on a LAKE OF SLUDGE. Uses an industrial tire as a boat. Rows like a gondolier with a road sign.
- Wall-E sits by the empty bay with Eve. Watches the SUNSET. Burns "WALL-E + EVE" on a public trash can. Tries to pull out her hand to hold it. It snaps back into place, trapping his hand.
END OF MONTAGE
---
E. End of a Montage
Again here, there is no exact rule apart from making sure it is clear to the Reader when the montage ends.
In terms of screenplay format, you will see two main forms:
1. Using the words "END OF MONTAGE"
You just saw an example of that format with the extract of Wall-E.
Ryan Coogler used in Fruitvale Station both END MONTAGE and START MONTAGE. All inside of his concern NOT to lose the Reader.
START MONTAGE
Wanda and Sophina clean the crab with brushes and different utensils. Grandma Bonnie starts up a roux in a large skillet. Uncle Daryl makes a large pitcher of lemonade from concentrate. Sophina and Oscar pull out glasses, dishes, and utensils for everyone. Tatiana watches Oscar closely.
A large pot is placed atop the gas stove. The burner blazes under it, as Wanda drops the now clean crabs into the bucket. She drops in the vegetables and begins to stir. Bowls are grabbed by everyone and they are filled up by Wanda, with white rice first, and then the brown gumbo is poured over it, along with large pieces of un- cracked crab. Everyone eats their gumbo in the kitchen. Laughing talking.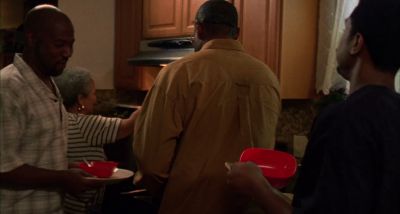 Wanda blows out the candles on her cake, cuts it, Hands out everyone a slice.
END MONTAGE
2. New Master Scene Heading
This is from The Great Gatsby, screenplay written by Baz Luhrmann & Craig Pearce.
Piles and piles of New York City newspapers swirl rapidly
TOWARD CAMERA, and we read their headlines:
"GATBSY'S STAGGERING WEALTH - MONEY! MONEY! MONEY!"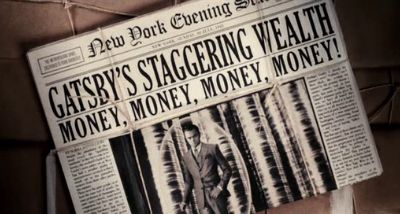 NICK (V.O.)
By midsummer Gatsby was front page news...
"GATSBY BUYING OUR CITY? INVESTMENT MONOPOLY FUELS CONCERNS"
"JAY CASHES IN! GATSBY STRIKES WALL STREET GOLD!"
"GATSBY INVESTS IN SKYSCRAPERS!"
"JAY PAYS FOR EVERYTHING: PARTIES, GALAS, PARKS, SCHOOLS!"
"WALL STREETS KING? MEET JAY GATSBY!"
A final newspaper COVERS FRAME:
"WHERE'S THE MONEY FROM!? MYSTERY MILLIONS SPARK WILD RUMORS"
We PUSH TOWARD the paper and DISSOLVE TOWARD:
---
F. Dialogues
A montage or series of shots is often accompanied by short dialogue.
There are basically 2 situations:
1. Comment:
The dialogue often takes the form of a voice-over, when someone - a narrator, the hero or another character - comments on what we see.
If the comment is specific to a shot, it is usually placed after such a shot.
This is an example from The Shawshank Redemption, screenplay written by Frank Darabont.
ANDY PLODS THROUGH HIS DAYS. WORKING. EATING. CHIPPING AND shaping his rocks after lights-out...
RED (V.O.)
Things went on like that for a while. Prison life consists of routine, and then more routine.
ANDY WALKS THE YARD, FACE SWOLLEN AND BRUISED.
RED (V.O.)
Every so often, Andy would show up with fresh bruises.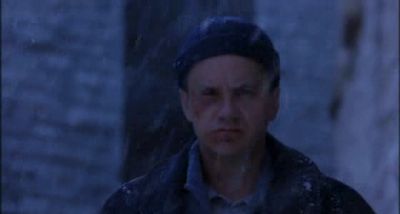 ANDY EATS BREAKFAST. A FEW TABLES OVER, BOGS BLOWS HIM A KISS.
RED (V.O.)
The Sisters kept at him. Sometimes he was able to fight them off... sometimes not.
ANDY BACKS INTO A CORNER IN SOME DINGY PART OF THE PRISON, wildly swinging a rake at his tormentors.
RED (V.O.)
He always fought, that's what I remember. He fought because he knew if he didn't fight, it would make it that much easier not to fight the next time.
The rake connects, snapping off over somebody's skull. They beat the hell out of him.
RED (V.O.)
Half the time it landed him in the infirmary...
If the comments are not specific to a shot, they are usually put after the master scene heading and before the list of shots.
In the extract below from The King's Speech, the screenwriter David Seidler considered all the shots to be one and the same, and chose to put the voice-over after such shots.
One more time the proof that the rules of screenplay format are pretty fluid.
In homes, pubs (where we see the man with the rosacea nose), clubs, hotels, boarding houses, factories, mines, prisons, a shearing shed in New Zealand, cattle station in Australia, sites in India, South Africa, loci around the Commonwealth and Empire. China. Japan. The Kremlin. The White House. Hitler's mountain top wolf den. The South of France (where David and Wallis listen dolefully.)
During this, the address continues, with dramatic pauses to be sure, but no real hesitations.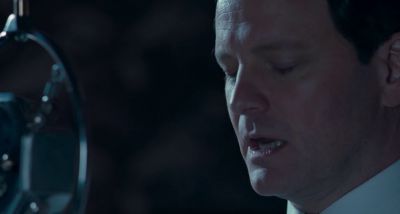 BERTIE (V.O. ON RADIO)
...this message spoken with the same depth of feeling for each one of you as if I were able to cross your threshold and speak to you myself. For the second time in the lives of most of us we are at war.
2. Dialogue:
There may be situations when the characters in the montage speak. In such a case, the dialogue is not a voice-over and the usual screenplay format is applied.
In this case, the dialogue is usually short.
This is an example from Slumdog Millionaire, screenplay written by Simon Beaufoy, combining both techniques (dialogue and voice-over when the hero is commenting on what's happening).
Montage of Jamal authoritatively showing tourists around the Taj Mahal.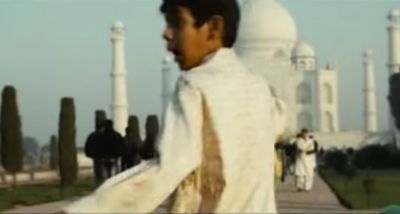 JAMAL V/O
It was the best-paid job I've ever had.
JAMAL
This is the Princess Diana seat, Madam. Allow me.
Jamal shows the tourist a battered postcard of Princess Diana, staring doe-eyed into the distance with the Taj behind. The tourist sits. Jamal adjusts her legs so that they match the postcard. Takes the photo....
SALIM O/S
Tourist police!
---
---
Series of Shots 101
Whatascript:
Now, what about, a series of shots?
Formatman:
Generally speaking, many screenwriters and directors use one expression for the other.
Considering the fact that both are actually made of quick shots, this confusion is understandable.
This is an example from Body Heat, screenplay written by Lawrence Kasdan where the word MONTAGE could have been used as well.
Racine drives his murder route. The roads are almost totally deserted. Intermittently he passes signs welcoming him to the towns as he travels south.
A. The first stretch of his trip, Racine travels on a deserted back road with overhanging trees. A Teenage Hotrodder passes him and he is alone again. As he turns off the road, he checks his watch.
B. He drives through a neighborhood of neat houses. No life.
C. He turns onto a four line interstate. More traffic here -- long haul truckers, late night drinkers.
D. He drives across a graceful drawbridge, rimmed by lights, over a canal.
E. He drives toward the ocean beside a pretty lake in a park. A patrol car passes the other way. Racine checks his watch.
F. At "The Breakers." Racine follows the same path as the police car he'd watched.
When comparing the use of both screenplay formatting techniques, it seems like - statistically speaking - that screenwriter use more often the word montage than "series of shots".
When going through produced screenplays, we noticed the following use of "series of shots".
---
1. The Passage of Time
Some screenwriters use this screenplay format technique to describe the passage of time - although some others will argue that this is again a theme and as such it should be considered as a montage.
This is an example from the TV series Friends with Benefits, screenplay written by Scott Neustadter and , Michael H. Weber.
Both Ben and Riley roll their eyes at this.
BEN
You realize you've said that about every girl you've ever dated, right?
AARON
I've never felt this way before.
- A pimply 17-year Aaron with braces turns to 17-year old Ben in gym class (SUPER: 10 YEARS AGO).
AARON
I've never felt this way before.
- 20-year old Aaron (with long hair and a soul patch) enters his dorm room, dramatically clutches his heart. (SUPER: 5 YEARS AGO).
AARON
I've never felt this way before.
- Aaron and Ben in the same bar, in the exact same spot (SUPER: JUNE):
AARON
I've never felt this way before.
---
2. Dramatic resolution
Other screenwriters use the screenplay format technique "series of shots" to show actions leading to a dramatic resolution.
This is from A Few Good Men, screenplay written by Aaron Sorkin.
MARKINSON is writing a letter and we HEAR it in V.O.
MARKINSON (V.O.)
I was William's company commander. I knew your son vaguely, which is to say I knew his name...
And while we continue to HEAR Markinson's voice writing the letter, we begin a SERIES OF SHOTS: MARKINSON is getting into his class A dress uniform, complete with medals, side arm, and military dress sabre.
MARKINSON (V.O.)
In a matter of time, the trial of the two man charged with your son's death will be concluded, and seven men and two women whom you've never met will try to offer you an explanation as to why William is dead. For my part, I've done as much as I can to bring the truth to light.
MARKINSON is finished dressing. He stands in the middle of the motel room.
MARKINSON (V.O.)
(continuing)
And the truth is this: your son is dead for only one reason. I wasn't strong enough to stop it.
MARKINSON takes a pistol out of his holster and cocks the trigger.
MARKINSON (V.O.)
Always, Captain Matthew Andrew Markinson.
MARKINSON puts the pistol in his mouth --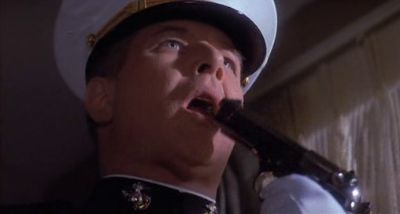 MARKINSON (V.O.)
United states marine corps.
We HEAR the BLAST of the gunshot
---
Series of Shots - The Screenplay Format
Most of the screenplay format rules that we mentioned above for the Montage apply for the series of shots.
SERIES OF SHOTS substitutes the usual Master scene heading.
When the series of shots is part of a scene, it becomes a secondary scene heading.
Like for the montage, what the series of shots is about, can be indicated next to the series of shots.
For example: SERIES OF SHOTS - THE DEATH OF MARKINSON
Like for the montage, the screenplay format of the description of the shots can start with letters, dashes or descriptions.
The end of a series of shots is accomplished through a transition (e.g. a new mastery scene heading) or if the scene continues, with a RETURN TO SCENE or END SERIES OF SHOTS.
The use of dialogues and voice-over work exactly the same as for the montage.
---
Montage and series of shots - General accepted rules
In the world of montage and series of shots, the following screenplay formatting rules are applicable:
Be consistent. Both in the formatting you use (e.g. letters or dash before the shots) and in the application of the words montage and series of shots.
Do NOT introduce new characters
Do NOT have any specific shot that would be significant enough to justify having its own scene.
---
Twist and Turn
Any good screenplay has a twist which sends the story into a surprising direction.
This article is no exception.
Now you know how to write a montage, you should know that many people HATE them.
One of these people is Tom Lazarus, a produced screenwriter and author of the very interesting book "Secrets of Film Writing".
This is what he writes.
I hate montages.

Because they break the screenplay form.
They break the seduction of the reader we are building so carefully.
All of a sudden, in the middle of a screenplay comes this:

MONTAGE
1.Arthur at a bar drinking.
2.Arthur walking the streets of L.A.
3.Arthur sleeping in a chair in a living room.
---
Now what?
Whatascript:
Formatman, what's your advice?
Formatman:
Look first at your own experience when reading a movie script. And again we have more than 250 on our site.
When you see the words MONTAGE, are you not suddenly taken out of the story?
Don't you have the experience that something interrupts the flow of the story?
And when you read these screenplay formatting words "MONTAGE - JOHN AND MARY FALL IN LOVE", don't you have the thought that you know already what is coming?
My advice?
Forget montage and use descriptions instead.
Forget leading the witness by announcing that John and Mary fall in love.
Give the Reader your best shot at writing compelling descriptions that make him experience John and Mary's discovery of each other and the attraction they have for each other.
That takes work, that takes practice. But that keeps the Reader in the story, wanting to know more.
---
The Proof is in the Pudding
Not convinced yet?
Let's compare the following 3 screenplay format examples.
The first one uses MONTAGE.
The second example did not have any montage initially but we modified its screenplay format so that it does now.
The third example is the same as the second one, but this time, without the montage part.
Which one reads more easily? which one flows and keeps you in the story? which one takes you out of the story?
---
Example 1: Pretty Woman, screenplay written by J.F. Lawton
We SEES Vivian in each department within the store with different SALESPEOPLE. She happily and confidently tries on a variety of dresses, hats, shoes, accesarries, etc.
1) Vivian is in a dressing stall. She tosses a dress out to a waiting SALESWOMAN.
VIVIAN
Not me!
2) A SALESWOMAN holds a long, purple evening gown.
VIVIAN
(imitating Bridget)
Horrid!
3) Vivian is admiring a pair of beautiful suede dress pumps. Her attention is drawn to the SALESMEN'S exotic hand-painted tie.
VIVIAN
Where'd you get your tie?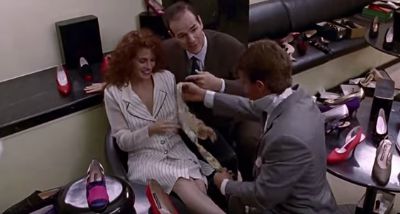 4) Vivian stands in front of an enormous tie rack with the Salesman, a dozen wild, swirling designed ties are hanging over his outstretched arm. Vivian picks out the brightest one and smiles.
---
Example 2.
A modified screenplay format of American Hustle, screenplay written by Eric Warren Singer and David O. Russell in order to include the montage characteristics.
A. SYDNEY STEPS OUT OF THE DRESSING ROOM IN THE VON FURSTENBERG DRESS - LOOKS FANTASTIC.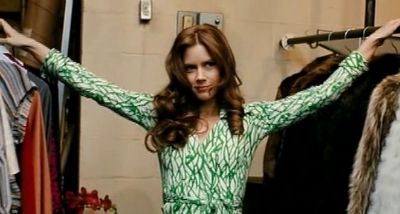 IRVING ROSENFELD
You look fantastic!
SYDNEY PROSSER
Oh my god. I can only dream about these dresses. They're beautiful.
B. SYDNEY PULLS CLASSIC CLOTHES FROM THE ABANDONED RACK: ONE, TWO, THREE.
C. SHE PUTS A JACKET ON HIM THAT HE IS RELUCTANT TO WEAR, PAISLEY SMOKING COAT.
D. LATER: THEY GO INSIDE THE ELECTRIC ROTATING CAROUSEL RACK OF CLEAR PLASTIC COVERED, DRY CLEANED CLOTHES
E. THEY STAND INSIDE, ENCHANTED, SMILING AT EACH OTHER, AS THE RACK SWIRLS MAGICALLY AROUND THEM.
F. THEY STARE AT EACH IN LOVE.
IRVING ROSENFELD (V.O.)
I felt like we had a secret. Just the two of us. You know like that thing where you want to just be with the one person the whole time. You feel like the two of you understand something that nobody else gets. I could just tell her everything about myself. And I never had anybody like that in my life before. I felt like finally, I can truly be myself without being ashamed, without being embarrassed.
---
Example 3.
The original screenplay format of American Hustle.
IRVING ROSENFELD (CONT'D)
You look fantastic!
SYDNEY PROSSER
Oh my god. I can only dream about these dresses. They're beautiful.
SYDNEY PULLS CLASSIC CLOTHES FROM THE ABANDONED RACK: ONE, TWO, THREE.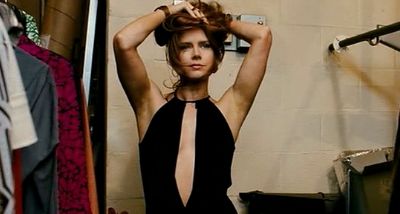 SHE PUTS A JACKET ON HIM THAT HE IS RELUCTANT TO WEAR, PAISLEY SMOKING COAT.
LATER: THEY GO INSIDE THE ELECTRIC ROTATING CAROUSEL RACK OF CLEAR PLASTIC COVERED, DRY CLEANED CLOTHES -- STAND INSIDE, ENCHANTED, SMILING AT EACH OTHER, AS THE RACK SWIRLS MAGICALLY AROUND THEM. THEY STARE AT EACH IN LOVE.
IRVING ROSENFELD (V.O.)
I felt like we had a secret. Just the two of us. You know like that thing where you want to just be with the one person the whole time.
---
So, what do YOU think?
---
The Ultimate Test - The Test Drive
You have decided to use MONTAGE in your script anyway?
Then make sure you test drive it with the following elements
is your montage really necessary?
is it forwarding the story?
is each shot well crafted? did you accomplish to have a whole world available in a few words?
is it interesting and original?
---
Whatascript:
This concludes our interview on this seventh formatting commandment "Thou Shalt Give Your Best Shot".
Thank you, Formatman.
Formatman:
May the Format be with you!
---
Aright guys uh.. Lets start sharing. Don?*
* Hancock - screenplay written by Vincent Ngo and Vince Gilligan
---
Discover the next Screenplay Format commandments:
---
Credits:
Picture :

-- "The Legend of Bagger Vance", Matt Damon (Rannulph Junuh), Michael Ballhaus (director of photography)


---
We go home now?*:
Go from Screenplay Format to Whatascript! Home page
* District 9, screenplay written by Neill Blomkamp and Terri Tatchell