Movie dialogue rule #3 - Use the 10-3 guideline
We asked our dialogue expert, David, aka Blablator, to lead us through the 13 movie dialogue rules.
If you missed the first part of this series of articles when he covered the rules background and the rules #1 and 2, you may want to check it out first.
This article regards the movie dialogue rules 3 to 6.
What a script!:
Any guideline regarding the number of words to be used?
Blablator:
As a very general rule of thumb, start with 10 words per sentence and a maximum of 3 sentences per character per time.

This rule may of course be broken depending on the type of character, the situation he is in and what he wants to accomplish.

Take however into account that less is more. So the more concise you are, the better it is.

Two examples of the application of this 10 words / 3 sentences rule of thumb:
Jason Bourne, from The Bourne Identity written by Tony Gilroy and and W. Blake Herron is a man of action. As such he does not use many words to communicate what he has to say.
In the Bourne Identity he uses an average of 9.06 words and 1.90 sentence per dialogue.
Homer Welles, from "The Cider House rules", written by John Irving, is a young man who leaves the orphanage where he spent all his life to go out in the world and find out what he wants to do with his life.
He uses an average of 10,35 words and 1,99 sentence.
Both averages are in line with the 10-3 guideline.
And for those who wonder if I really counted all these words and sentences, the answers is "Yes I did". It took some time but nothing replaces first hand experience.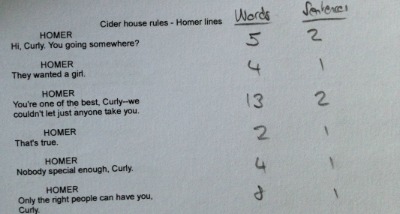 Apply this rule to YOUR screenplay.
List all the lines of your main character(s) and start counting.
Is the total of words and sentences in line with the 10-3 guideline? Great!
If not, start editing. Remember, a screenplay is about showing NOT telling.
---
---
Movie dialogue rule #4. Cross your t's
What a script!:
Any advice regarding the shape of a movie dialogue on the page?
Blablator:
Yes. A beginner's mistake is to write a short description followed by a long movie dialogue.
It has the shape of the letter T on a page.
The movie dialogue rule #4 is about crossing your t's, that is breaking your dialogue with some descriptions in between to make it easier and faster to read.
This is an example of The Cider House Rules written by John Irving.

I have indicated the initial T in red. Note the additional descriptions that I framed in black, crossing the vertical bar of the T.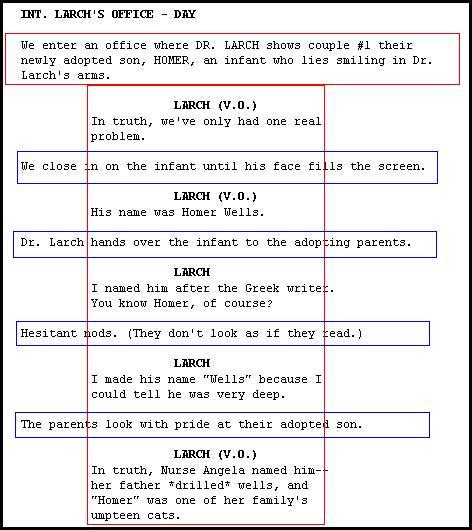 ---
Movie dialogue rule #5. Fulfill the dialogue intentions
What a script!:
Let's talk about the content. What are the rules to go by?
Blablator:
The first one is that the dialogue should fulfill at least one of ...

The 5 movie dialogue functions
What a script!:
The Colonel Jessep, mentioned the same dialogue functions in a series of interviews I had with him.
For those who don't know him, he's a character from the screenplay "A Few Good Men", written by Aaron Sorkin. He became famous with the sentence ...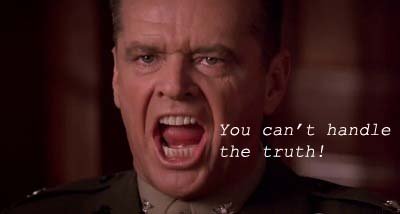 Coming back to these functions, do you agree with Jessep that if a dialogue does not fulfill at least one of these intentions, it should be deleted or rewritten?
Blablator:
Definitely.
A screenplay is not a place to chit chat, or to show how great you are with words.
And definitely not a forum to demonstrate you're the next Mark Twain.
Implement the practice to take each of your dialogues and ask yourself which function it fulfills.
Is it moving the story forward? revealing character? communicating information? creating conflict between characters?
If your dialogue does not fulfill any of these functions, get rid of it.
If your dialogue does fulfill one of these functions, ask yourself how you could transform it to have it fulfill more intentions than it currently does.
The Colonel Jessep gave some examples from his own life to illustrates this point. Don't miss them!
---
Movie dialogue rule #6. Face the Challenge
What a script!:
You lost me there. What do you mean with dialogue rule #6?
Blablator:
Robert McKee sums up this challenge as follows in his best-seller "Story: Substance, Structure, Style and The Principles of Screenwriting":
Dialogue should have the swing of everyday talk,
but content well above normal.
In other words, if you were to write down an ordinary conversation between people, it would be quite lengthy and not always very interesting.
                              TOM                  Hi John.                               JOHN                  How's it goin'?                                TOM                  Fine. Hold on a sec' - my phone.                                JOHN                  Uh, sure, no worries. Take your                  time ...     
Needless to say the reader would get bored within no time and toss your screenplay even faster.
At the same time, the paradox is that your dialogue needs to sound like normal talk. It should ring true, not forced. The audience should not be conscious that you wrote it.
There are a few ways to do that. I'll mention 2:
---
Aright guys uh.. Lets start sharing. Don?*
* Hancock - screenplay written by Vincent Ngo and Vince Gilligan
---
Find out about the next 3 movie dialogue rules
---
Credits:
Pictures and screenplays:

-- "On the waterfront" - Marlon Brando, Elia Kazan (director), Boris Kaufman (director of cinematography), Budd Schulberg (screenplay)

-- "The Cider House Rules", John Irving (screenplay)

-- "A few good men" - Jack Nicholson, Rob Reiner (director), Robert Richardson (director of cinematography), Aaron Sorkin (screenplay)
---
Home, sweet home, Mr. L.*:
Go from 13 Movie Dialogue Rules (part 2) to Whatascript! Home page
* The Big Lebowski, screenplay written by Ethan Coen & Joel Coen